Our wide array of amazing flavors are the richest, smoothest, creamiest sodas you'll ever taste. From our original Hank's Philadelphia root beer to our latest popular soda, Irish Golden Ginger Ale, we strive to provide our fans an unparalleled taste experience.
Our soda flavors have won awards, rave reviews and an aggressive, loyal following which has spurred our growth. We continue to introduce new flavors that reflect our promise to be the tastiest soda brand ever!
Andrew J.
Tried the diet root beer for the first time at Billy Bob's diner in West Yorkshire in the UK. I'm hooked, great taste!
B E
Their birch beer and root beer taste amazing
Corrine C.
Hank's is one of the most favorable enjoyable soda beverages I've ever had I love the blackberry . You have to try it for yourself five stars
Pawprint1
Never went to the place my self and instead bought the soda from the store and they make one of the best sodas I've ever tasted in my life time.
Andrew K.
Best soda I ever tasted on my tongue.
Larry S.
I've loved root beer all my life!! Came across hanks at a local ice cream shop when I got a float and hands down the best root beer I've EVER HAD!! Keep up the great work
Stephen B.
Being a rootbeer fan it is probably the best I have ever tried.
Robyn J.
Hank's Black Cherry is "Bomb Diggity", a delicious treat!! We buy them at Apple Market in Clever Mo.
Kelly Lockner M.
The Vanilla Cream Soda is so unbelievably good!! They have excellent customer service and quick shipping too.
Joy Gilbert S.
😃 I have tried a few flavors and they were all good. I LOVE THE BIRCH BEER! I can't get it at home in metro Atlanta, but I try to get it here in Philadelphia. Tony from home office was able get me a site to purchase in bulk to take home. many thanks to Tony
J. K. S.
I LOVE THE BIRCH BEER! I can't get it at home in metro Atlanta, but I try to get it here in Philadelphia. Tony from home office was able get me a site to purchase in bulk to take home
Mike O.
First time I have seen or heard of hanks. Great tasting rootbeer. South Florida
Tom B.
Caramel Apple Cream , Happy Holidays
Karen D.
Black cherry was fantastic
Jan G.
best hands down!! you seriously can't go wrong with this line either! got one just to try it and now I have to try them all. they are so good
William L.
Taste it and see. Their Cream Soda is Awesome too!
Kevin R.
Love their Black Cherry Soda!!
Edward H.
I love the root beer and the black cherry soda and always tastes fresher in a glass bottle
John P.
Had a great experience with Hank's. Their root beer is excellent – and my kids would mainline the grape if they could.

Gonna try the birch beer next. I highly recommend their products!
Scott C.
Hank Absolutely loves this stuff!
O S.
I stopped too quickly with some root beer in my car, and it spilled. So, I figured I'd ask if they'd comp me one. They were incredibly kind and are sending me a new bottle of root beer! Highly highly recommend!!
Lee B.
best root beer in existence
beats stewarts
beats A&W
just really hard to find
Tom P.
Really Enjoyed the Root Beer. Keep up the great sodas Hank's! Please see my review: https://www.vintagesodacollector.com/vsc-sodareviews/hanks-rootbeer
Lauren R.
Best tasting root beer and flavored sodas!
Kristina M.
We love bringing this delicious taste of home to Indy! #hoagiesandhops
Colin P.
Had the root beer at Ultrazone laser tag in Bensalem. Good stuff.
Pam Phelps H.
Hank' s root beer is amazing, and the company is awsome. Thank you for your great tasting products. ps best root beer floats ever 🙂
Michelle C.
MOST DEFINITELY! The smoothest Vanilla Cream Soda I have ever had in my life! We need you in Sinton, Tx… or at least Corpus Christi, Tx!
Alex A.
Discovered Hank's at Rocket Fizz, and have to say that this is a really smooth, refreshing beverage. Between the Orange Cream Soda, and the Black Cherry, I always enjoy the taste that comes from glorious glass bottles.

We have gotten a lot of our friends drinking Hank's, and we all enjoy it. Looking forward to getting a chance to try the Grape Soda.
Kirsten J F.
I was drinking Snapple for 25 plus yrs found your Hanks Orange Creme several yrs ago, guess it took while to come to my town lol, must have every wk, why do all our stores not carry it, can only find at Lowe's Foods. Nothing can come close to this flavor, yumm
Dana Scott W.
Had this root beer in Glen Rose Texas. Best I have ever tasted. It would be great if Bucees stocked it.
Emily B.
Thanks to Bill at Hank's for coming through for my son's rehearsal dinner. We received our shipment today! We love Hank's!!
Matthew C.
Great root beer! Wish it were easier to get in North Carolina.
Guy R. E.
Before Food Lion left Florida. I tried Banks Root Beer far and away the best i have ever had. No no stors in Jacksonills Florida crrrd it. Iwsh Pubi orWnn Dixis crrrd it. Grest suff.
Joseph P.
I'm a diabetic so you know I'm limited to things to drink , I mean a man can only drink so much water and plain tea.. but the diet root beer taste awesome!!!! Love the glass bottles!
Jesus B.
My favorite, black cherry, love it. Get it as much as I can.
Rochelle D.
I live in Australia so American soda isn't that commonplace aside from Dr Pepper, A&W and Mountain Dew, saw this in a Night Owl store and bought the flavours, Vanilla Cream, Root Beer and Black Cherry. (Yet to try those) but the Vanilla Cream is so good. Smooth creamy and a nice vanilla taste but not overpowering like a good old fashioned creaming soda. Yum!!!
Laura T.
Had a bottle of the diet root beer at the Red Rabbit drive in. I kept checking the label. Hard to believe it is diet! awesome tasting, no after taste!
LeeAnn H.
Couldn't believe how much I actually like thsee drinks! At first you think, what am I doing! But then your back buying 4 or 5 packs to take and hide from everbody, ( but u share taste with all you buddies! Thanks so much HANK'S!
Francisco S.
And looks delicious you guys need to try good luck
Heather L.
From the Black Cherry to the Root beer, I love them all!
David P.
Here in Richmond, KY
Love the orange cream soda, Simply the Best
Casey P.
Best root beer ever! I love that i have found a place that carries it locally here in Monroe, GA!
Suzanne C.
Black Cherry‼️ Cream Soda‼️Great Soda is hard to find but not anymore❗️Thanks Hank
Joseph D.
BEST VANILLA CREAM SODA I'VE EVER TASTED. MUST. HAVE. MORE….but I live in SoCal. So sad. :'(
Casey A.
The smoothest, creamiest sodas I have ever had. I must, and WILL have more.
Corey D.
Best soda ever 🙂
Linda S.
Always loved the root beer. Got a chance to sample other flavors at the show this weekend. Love cream and black cherry!! And you are local!! Will be trying more!!!
×
And Seasonal Flavors Too!
When the season rolls around to fall, it's time for "Hanksgiving".
Our celebrated seasonal flavors bring this time of year to your taste buds.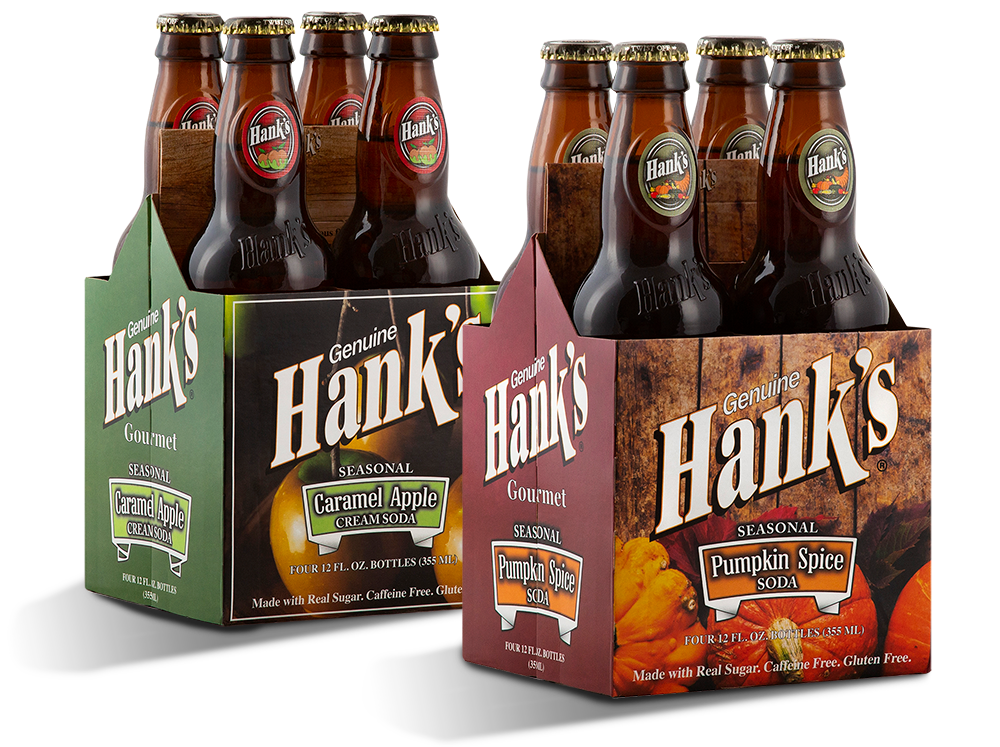 Caramel Apple combines a
just-right juicy, tart apple
bite with the smooth body
of toffee and hints of
golden butter rum. It brings back memories
of trips to the Farmer's Market
or local fair, where you could
smell that buttery, caramel aroma in
the air, even before you saw
the glistening apples on-a-stick.
Tart, sweet and creamy
all at once, it makes a
surprisingly tasty soda
like you've never tried before.
You'll be amazed at the delicious
blend of flavors we've managed
to cram into each bottle.

Pumpkin Spice is hand-crafted
to find just the right
balance, blending a deep
pumpkin richness and hints
of nutmeg, cinnamon, and allspice.
It's delicious. It also captures
the essence of the holiday
season from the first sip. You'll
immediately think Hank's has
managed to bottle a slice of
the very best pumpkin pie
you've ever tasted.